Ferrari 250 GT California Wheels
Shop By
Shopping Options
Price

Free Shipping 2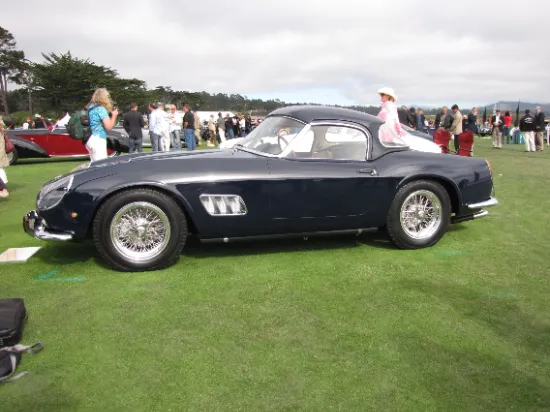 The series 1 Ferrari 250 GT California Spyder with the Long Wheel Base fitted Borrani RW3264 Wheels 5.5"X16".
The series 2 Short Wheel Base 250GT California Spyder fitted 5.5" wide RW3526 or 6" wide RW3687, both 16" diameter Borrani wheels.
Some of the Ferrari 250 GT California Spiders fitted 5.5" wide 400mm diameter Ruote Borrani RW3598 wheels.
---
250GT California Spider Tires
---
The Standard original Cross ply tire for the 250GT California Spider was 6.00-16 Pirelli Stella Bianca.
The 400mm RW3598 wheel fitted 175HR400 Pirelli Cinturato CA67.
Pirelli developed the Cinturato radial tire in 1952. So for a 16" radial then 185VR16 Cinturato was fitted by Ferrari.
Wire wheels need inner tubes, we would fit the Michelin 16 F RET in a Ferrari 250 GT California Spider wheel and tire set up.