Shop By
Shopping Options
Price

Free Shipping 2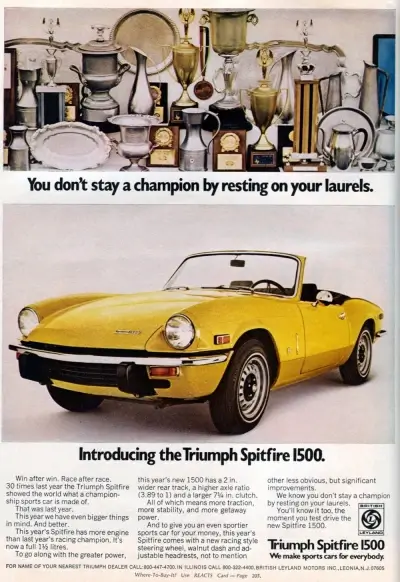 Triumph Spitfire 1500 Advert
---
Triumph Spitfire Wheels
---
---
Triumph Spitfire Tires
---
Triumph Spitfire MK1, MK2, and MK3 Tires
The first Triumph Spitfire (MK1, MK2, & MK3) originally came with 5.20x13 Dunlop C41 crossply tires.
For the MK1, MK2, & MK3 Spitfire, we recommend using 145HR13 PIRELLI CINTURATO ™ CA67 as the ideal road tire.
---
Triumph Spitfire MKIV 1970–1974 Tires
---
Triumph Spitfire 1500 1974–1980
The 1500 Triumph Spitfire, with its extra torque, can accommodate taller tires.
We recommend using either the 155R13 PIRELLI CINTURATO CA67 or the 155 HR 13 Michelin XAS FF.
---
Triumph Spitfire Wider Tires
While we do not recommend fitting wider rims to these cars, some people choose to do so.
If you decide to use wider wheels, the best tire option is the 175/70 VR 13 PIRELLI CINTURATO CN36.
RW 3980 Triumph Spitfire Wheels

---

RW 4341 Triumph Spitfire Wheels

---