Shop By
Shopping Options
Price

Free Shipping 2
---
Jaguar XK120 Wheels
---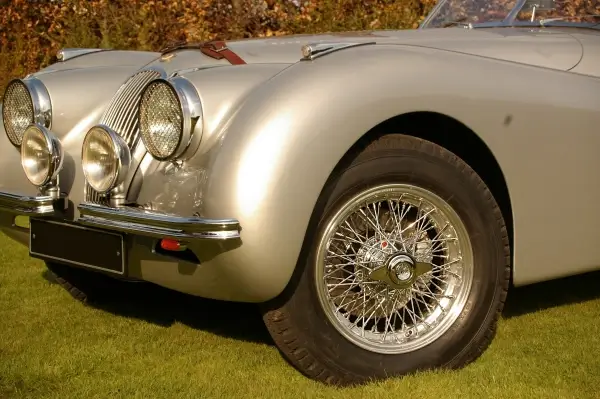 Jaguar XK120 on Borrani Wheels
The RW 2623/3 and RW 2623/bis were likely developed for an XK120 owner who wanted to fit wider racing tires. If you plan to use your XK120 on track then these wheels allow for racing tires with a larger footprint. For normal use, fit the RW 2623 or RW 3027.
---
Jaguar XK120 Tires
---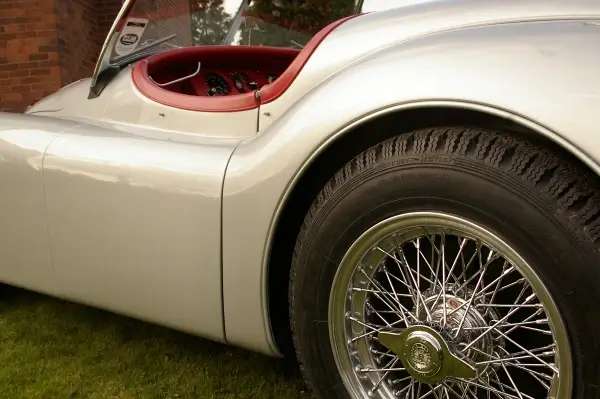 Jaguar XK120 on Borrani Wheels and 185VR16 PIRELLI CINTURATO ™ CA67 Tires
The original tire for a Jaguar XK120 was the Dunlop Fort B5 in size 6.00-16, but it is no longer manufactured.
We now offer the 6.00-16 PIRELLI STELLA BIANCA, which is the ideal crossply for a Jaguar XK.
We recommend the 185VR16 PIRELLI CINTURATO ™ CA67 tire for the XK120. This classic radial tire improves the suitability of classic cars on modern roadways while maintaining the appropriate diameter and avoiding excessive steering weight.
Early Jaguar XK120 models had spats on the rear wheel arches, which can restrict the fitment of certain radial tires. However, the CINTURATO ™ CA67 tire, being a period tire, can be fitted within the spats of an XK120.
All wire wheels require innertubes. For an XK, the Michelin 16F Offset Valve Reinforced innertube is the ideal choice for wire wheels.
The 185 SR 16 Michelin X is also a suitable option for steady XK drivers.
Michelin also offers the 6.00 R 16 Michelin Pilote X, a high-performance radial tire with a vintage racing tire appearance.
For the original XK120 Jaguar, we recommend a tire pressure of 30psi for the front and 36psi for the rear when using radial 185 VR 16 PIRELLI CINTURATO CA67 tires.
RW 2623 Jaguar XK 120 Wheels

---

RW 2623/3 Jaguar XK 120 Wheels

---

RW 3027 Jaguar XK 120 Wheels

---