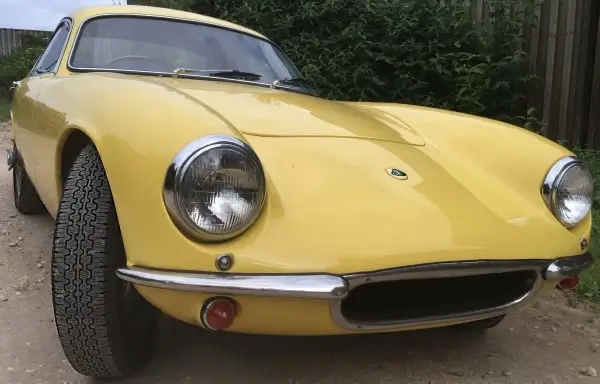 Lotus Elite on PIRELLI CINTURATO ™ CA67 Tires
---
PIRELLI CINTURATO ™ CA67 Tires
---
In 1952 when the CINTURATO ™ CA67 was released by Pirelli it stole the show as the tire people wanted on their sports cars. The CINTURATO ™ CA67 is a available in a selection of important classic tire sizes.
---
The PIRELLI CINTURATO ™ CA67
---
For prestigious sports car manufacturers, including Ferrari, Maserati, ISO, Lamborghini, Alfa Romeo, and Lancia, it was commonplace to equip their vehicles with the renowned PIRELLI CINTURATO™ CA67 tires. This pioneering tire was also adopted as standard by other esteemed European manufacturers like Rover, Morgan, MG, and Porsche.
During the 1960s, many prominent sports car makers still opted for crossply tires due to the high cost of the CINTURATO™ CA67 HS. Alternative radial tires did not offer the desired progressive handling characteristics required for a sports car. However, an intriguing historical fact reveals that Aston Martin, under David Brown's leadership, offered the 185VR16 PIRELLI CINTURATO™ CA67 HS as the radial tire option for their vehicles. Even today, we highly recommend the PIRELLI CINTURATO™ HS tires for Aston Martin models from the 1950s and 1960s.
During that period, Avon did not produce radial tires. However, the CINTURATO™ not only offered exceptional handling, perfectly complementing the vehicle's performance, but it also maintained the correct aesthetic appeal. This fact is evident in the two pictures showcasing a DB2/4, where the CINTURATO™ demonstrates the appropriate diameter.
In the 1960s, Jaguar offered the E-type with crossply tires as standard. However, if customers desired a radial tire option, Jaguar provided the 185VR15 PIRELLI CINTURATO™ CA67. Additionally, for the Series 1 E-type, Jaguar also offered the Dunlop SP41 tire. However, the latter was not ideally suited to the high-speed capabilities of the XKE. For Jaguar, it wasn't until 1968 that they could take advantage of the pricing offered by a British tire. This occurred with the introduction of Dunlop's SP Sport; also known as the Aquajet.
---
PIRELLI CINTURATO ™ CA67 Cars
---
| Tire Size | Relevant Cars |
| --- | --- |
| 145HR13 PIRELLI CINTURATO ™ CA67 | Alfa Romeo Alfasud, Austin A30-A35, Austin Metropolitan, Austin A40 Farina, Austin Allegro, Austin Maestro, Austin Healey Sprite, Fiat 850, Fiat 128, Ford Cortina, Ford Escort, Ford Anglia, Ford Popular, Ford Fiesta, Ford Prefect, Honda S800, Lotus 7, Lotus Elan, MG Midget, Morris Marina, Peugeot 205, Renault R5, Renault 4, Simca 1100 TI, Talbot Samba, Talbot Sunbeam Lotus, Triumph Herald, Triumph Spitfire, Vauxhall Astra, Vauxhall Firenza, Volkswagen Golf, Volkswagen Polo, Bond Equipe GT, Bond Equipe GT 2-2, Bond Equipe GT4S, Bond Equipe GT4S 1300, Toyota Starlet, Abarth 850, Abarth 1000, Autobianchi Primula, Autobianchi A112 |
| Tire Size | Cars |
| --- | --- |
| 185VR16 PIRELLI CINTURATO ™ CA67 | Aston Martin 2-Litre Sports, Aston Martin DB2, Aston Martin DB2/4, Aston Martin DB Mark III, Aston Martin DB4, Aston Martin DB4 GT Zagato; Jaguar XK120, XK140, XK150 and C-Type; BMW 2500 and 375; 1950s and early 60s Maserati and Ferrari; Bristol up to the 409 in 1967; AC Ace; Triumph Gloria and Renown; Riley RM and Pathfinder; Lea Francis up to 1954; Daimler DB18 |
| Tire Size | Relevant Cars |
| --- | --- |
| 165HR400 PIRELLI CINTURATO ™ CA67 | Alfa Romeo 1900, Alfa Romeo 2600, Alfa Romeo Giulia Spider, Alfa Romeo 2000-2600 Spider, Citroen Traction Avant, Citroen 7CV, Citroen 9CV, Citroen DS, Citroen ID, Ferrari 250 GT California Spider, Ford Vedette, Lancia Flaminia, Lancia Aurelia, Lancia Aprilia, Renault Fregate, Siata 208 |
| Tire Size | Relevant Cars |
| --- | --- |
| 175HR400 PIRELLI CINTURATO ™ CA67 | Alfa Romeo 2600, Alfa Romeo 2000-2600 Spider, Ferrari 250 GT Tour de France, Ferrari 250 GT California Spider, Ferrari 250 GT SWB, Ferrari 250 GT Coupe Pininfarina, Ferrari 250 GTE, Ferrari 250 GT Cabriolet, Lancia Flaminia |
| Tire Size | Relevant Cars |
| --- | --- |
| 145HR14 PIRELLI CINTURATO ™ CA67 | Fiat 1500, Fiat 1100, Lancia Fulvia, Morris 2200, Peugeot 204, Renault 16, Riley 1500, Saab 93, Volvo 66, Wolseley 1500, Datsun Sports |
| | |
| --- | --- |
| 165HR14 PIRELLI CINTURATO ™ CA67 | Alfa Romeo Alfetta, Giulia & Spider; Audi 100; Austin Cambridge & A60 Countryman; BMW 1800 & 2000; Citroen GS; Lancia Flavia & Fulvia; Mazda 1800;MG MGB; MG Magnette; Morris Oxford; Peugeot 504; Porsche 924; Riley 4/68 & 4/72; Rover 2200TC; Wolsley 16/60 |
| | |
| --- | --- |
| 185VR15 PIRELLI CINTURATO ™ CA67 | Aston Martin DB4, DB5 and DB6; Jaguar E-type series 1 & 2 and Jaguar Mk1, Mk2 & S-type saloons; Daimler V8 saloon; Ferrari 250GT and 250GTE;Mercedes 220D; BMW 2600 and 3200; Citroen ID and DS; Morgan +8; Rover P4 and P5; Jensen CV8 |
| | |
| --- | --- |
| 155HR15 PIRELLI CINTURATO ™ CA67 | Alfa Romeo Giulietta and Giulia; Lancia Flavia and Appia; Lotus Elite; MG MGA; Peugeot 403 and 404; Triumph TR2 and TR3; Volkswagen Beetle |
| Tire Size | Relevant Cars |
| --- | --- |
| 165HR15 PIRELLI CINTURATO ™ CA67 | Alfa Romeo Giulietta, Austin Healey 100, Austin Healey 3000, Citroen DS, Citroen ID, Daimler Dart, Ferrari 166, Fiat 8V, Fiat 2300, Gilbern Genie, Gilbern Invader, Jowett Jupiter, Lancia Flavia, MG TD, MG TF, MGA, MGC, MG Y, Morgan Plus 4, Morgan 4-4, Morris Oxford, Peugeot 403, Peugeot 404, Porsche 356, Porsche 911, Porsche 914, Porsche 912, Renault Fregate, Rover P4, Saab 99, Simca Ariane, Simca Chambord, Skoda Felicia, Skoda Octavia, Standard Vanguard, Sunbeam Alpine, Triumph TR2, Triumph TR3, Triumph TR4, Triumph TR5, Triumph TR6, TVR Tuscan, TVR Vixen, TVR M Series, TVR Griffith, TVR Grantura, Vauxhall Wyvern, Volkswagen Beetle, Volkswagen Karmann Ghia, Volkswagen Type 3, Volkswagen Type 4, Volkswagen K70, Volvo Amazon, Volvo 140, Volvo 164, Volvo 444-544, Volvo P1800, Wolseley 15-50, Reliant Sabre, Reliant Scimitar, Toyota 2000GT |