Alfa Romeo Giulietta Wheels
Shop By
Shopping Options
Free Shipping 2
---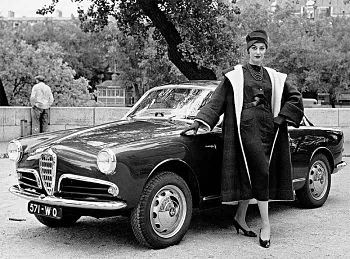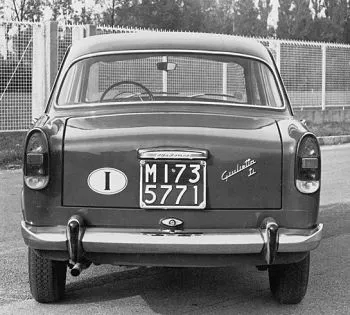 Standard Alfa Romeo Giulietta wheels were 4.5" pressed steel wheels.
In period Borrani offered a 4.5" aluminium rimmed steel centre Turbo Sport RB1-257.
The Turbo sport RB1-257 utilised the Giulietta's standard bolt-on system and original hub caps.
Of course these classic Giulietta wheels are Aluminium rims with mild steel spokes and wheel centres.
The Spoked Borrani Giulietta wheels can come with either a painted or polished rim with Chromes spokes and wheel centre.
Borrani also provide a transform kit to change from Bolt on wheels to Centre lock spoke wheels and a different one for the centre lock Turbo sprint centre lock bimetal wheels.
For more information about centre lock transform kits and Giulietta wheel information contact +44 (0) 1302 711 123 -

[email protected]
---
Classic Alfa Giulietta Tires
---
---
Inner tubes for Alfa Romeo Giulietta
---
We would suggest the best inner tubes for 155R15 Alfa Romeo Giulietta tires would be the Michelin 15E13.
The 15E13 inner tube is also ideal for 175/70R15, 165R15 and Dunlop Racing Giulietta tires.
There is also a Racing inner tube option with bolt in metal valve stem.
RB1-257 Borrani Bimetal Bolt on Wheel 4.5"x15" Alfa Romeo Giulietta Wheels

---
The standard and best tire for the Alfa Romeo Giulietta is the 155HR15 PIRELLI CINTURATO CA67 that was introduced in 1952. Michelin do also make an excellent option in the 155HR15 XAS, but the Cinturato was original equipment and Pirelli's build quality is excellent, the progressive handling and period looks of the Cinturato set the car off beautifully.
Alfa Romeo Giulietta wheels
Borrani have always had a close association with Alfa Romeo and offer a selection of wire wheels for the Giulietta. Although the Giulietta did not come as standard with wire wheels Borrani offer a transform kit to give you the option of fitting either the 4.5"x15", RW3344 or 5.0"x15", RW3942 wire wheels.
Borrani developed its Turbo Sport wheels for fitting to the Giulietta, these wheels soon became called Bimetal wheels, as they have a pressed steel centre piece and light alloy rim. The Bimetal Giulietta wheels have recently been re-manufactured by Borrani with an option of 2 styles for the Alfa Romeo Giulietta. The Turbo Sport wheels use the standard bolt on system of mounting a wheel. Whereas the Turbo Sprint uses a Transform Kit so you can fit the centre lock wheels with a knock on spinner.
Note the transform kit used for wire wheels is different to the centre lock kit for Bimetal Turbo Sprint wheels.