Michelin SCSS:

Michelin Super Confort Stop S: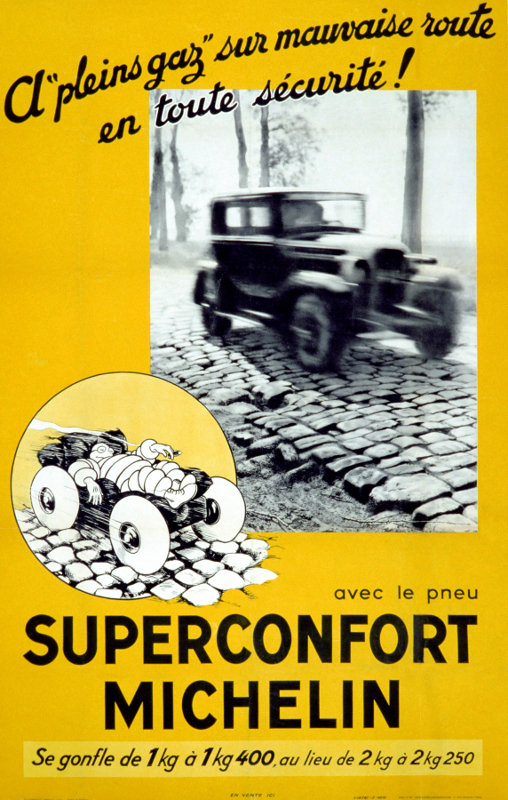 Michelin SCSS: Design
Michelin with it's Confort Cord tires had worked on developing crossply tires that could run at lower pressures than the vintage beaded edge tires. The Super Confort (or Superconfort) that Michelin developed in 1932 gave the ability to run tires at a pressure as low as 22psi (1-5 bar). This lower pressure improved the longevity and comfort of the tire as the tire's name suggests.
Michelins next major innovation they implemented to these tires came in 1935 with the thin zig zag cuts in the tires tread pattern. These are called sipes, they act by channeling heat into small "corrals" that let air flow between them, creating a natural heat dispersion and cooling the tire. They dramatically improved the performance of the tires in the wet.
At Borrani we suggest that while running Michelins Super Confort Stop tires to run at a pressure closer to 30 psi (2 bar) because the modern tarmac roads that we drive on today allow for higher speeds to be maintained for longer than was possible back in the vintage days.
Superconfort
Michelins development of the Superconfort tire was a new technology. As a way of trying not to allow their new technology from being mixed up with the standard wheels that people were fitting in the period, Michelin made the Bibendum rim which was millimetric. Today all the Michelin SCSS (Super Confort Stop S) vintage tires are manufactured for fitment to 40cm/400mm rims- You cannot fit a 40cm tire onto an 16" rim any more than you can fit a 16" tire onto a 400mm rim.
Michelin SCSS: Fitment
The 150/160 x 40 SCSS was developed and tested with Citroen, making it a perfect fit for both pre and post war Citroen Traction Avante cars. Alongside the Traction Avante, The SCSS also fits a Citroen 10cv, Citroen 11 UA, Citroen TA 7, Citroen 11, and Citroen 15. Of course, the SCSS is not limited to exclusively Citroen cars, and will be brilliant fit to a Peugeot 301, Peugeot 401, Renault Nervasport, and Delahaye 138.
The 130/40 x 40 SCSS fits a Peugeot 201, Peugeot 202, Peugeot 301, Peugeot 302, Rosengart LR, Celta 4, Citroen 8cv, Citroen 7a, Citroen 7B, pre and early post-war Citroen Traction Avante and George Irat. The 130/140 x 40 SCSS is developed to fit on a 40cm Rim, therefore you cannot fit these tires on a 16" rim.