Ferrari 275 GTB - 4 Wheels
Shop By
Shopping Options
Free Shipping 2
---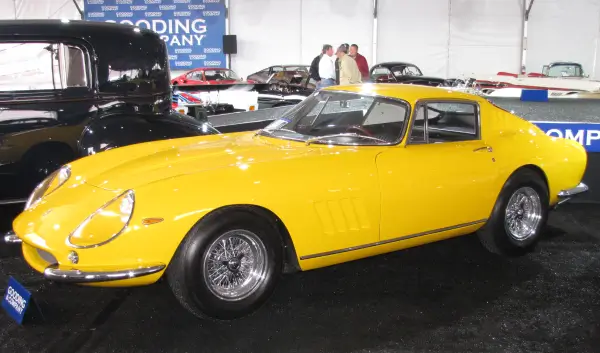 Ferrari 275 GTB-4 Wheels
The standard road car Ferrari 275 GTB4 fitted 7.0"X 14 Campagnola magnesium alloy wheels.
RW4039 Borrani Wheel 7.0"x14" wire wheels were a special order option.
Competition specification 15" Borrani wheels are also an option for the 275 GTB4.
RW4010 Borrani Wheel 7.0"x15" were the front competition wheels that had the spokes laced to the outer bead seat.
The Ferrari 275 GTB4 Competition Borrani wheels for the rear were centrally laced RW4011 Borrani Wheel 7.5"x15".

---

Ferrari 275 GTB4 Tires

---

Originally Ferrari 275 GTB4 tires were 205VR14 CINTURATO ™ CN72.
We suggest fitting the 205 VR 14 Michelin XWX, which came out in the 1960s, and is the only tire we would consider in this size.
It is important to note, that at this time 70% profile tires had not been invented at this point and the 205R14 Tires of the 275 GTB has an 80% profile.
The 275 GTB4 competition cars that Ferrari fitted with 15" wheels would fit Dunlop Racing Tires.
If you are wanting to use the 15" Borrani competition wheels on a road car we would suggest either 215/70VR15 PIRELLI CINTURATO ™ CN12 or 215/70VR15 Michelin XWX.
Innertubes for a 275 GTB4 on 14" wheels we would recommend the Michelin 14F innertube.
Ferrari 275 GTB4 competition wheels with 215/70R15 Tires; we suggest the Michelin 15/17H innertube.
RW4039 Ferrari 275 GTB - 4 Wheels

---

RW4010 Ferrari 275 GTB - 4 Wheels

---

RW4011 Ferrari 275 GTB - 4 Wheels

---
Standard Borrani fitment for the road going Ferrari 275 GTB/4 is the RW4039, 7.0"x14" wheel. Competition specified cars were equipped with 15" wheels, RW4010, 7.0"x15 outer laced wheels at the front and RW4011, 7.5"x15" centre laced Borrani wheels at the rear.