Pirelli P7 Corsa Classic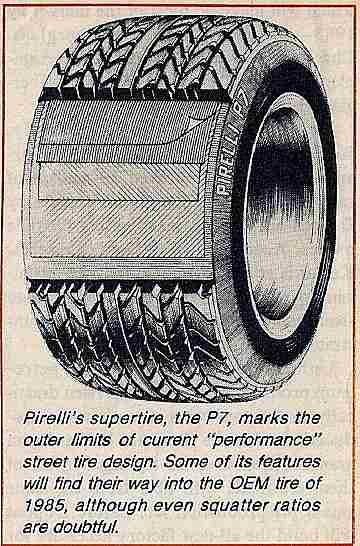 Pirelli P7 Corsa Classic: Design
The tread pattern of the P7 Corsa classic is a fusion of two essential rally tire designs, slickness for driving in dry conditions, and grooves for the wet.
The P7 Corsa also comes in 3 different compounds that suit the needs of different surfaces and conditions, these are as follows:
The W5 wet compound for mixed wet and dry surfaces at a maximum temperature of 5°C
The D5 medium compound for normal asphalt 10°C - 20°C.
The D3 hard compound for over 20km on abrasive asphalt, over 25°C.
The tire pressure of the P7 Corsa Classic depends on the tire size in relation to the load, meaning that the tire pressure will vary according to the car, conditions of usage, and the weight. The tire pressure must be increased in line with an increase in weight of the car, speeds, and acceleration. The P7 Corsa Classic should not be used at a pressure below 1.6 bar."Hot" working pressures are usually in the range of 2.2 - 2.5 bar. Initial inflation pressures will vary based on whether the tires are pre-heated or used "cold", if the tires are preheated, then they can be inflated to slightly lower pressures than slightly lower values than cold tires.
Pirelli P7 Corsa Classic: Fitment
The Pirelli P7 Corsa Classic is a wonderful rally tire that is also E marked and road legal. A wide range of cars will benefit from this amazing tire, among this range are brilliant cars like the Opel Manta, Kadett and Ascona, Porsche 911, and the Ford Escort for example. For a full list of available fitting options, Pirelli have a fitment guide availiable on their website.