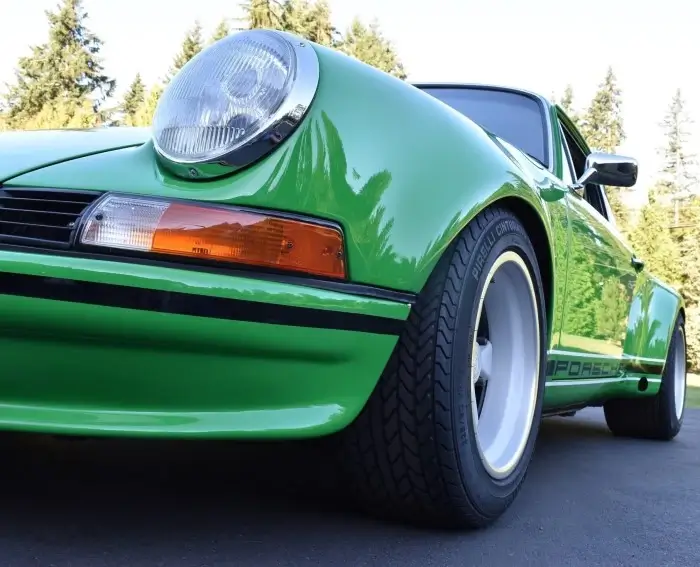 Porshe 911 on 225/50 VR 15 PIRELLI CINTURATO P7 front and 285/40 VR 15 PIRELLI CINTURATO P7 rear Tires
---
PIRELLI CINTURATO ™ P7 Tires
---
The PIRELLI CINTURATO ™ P7 represents a new generation of wider and lower-profile tires developed in response to the power and speed advancements of 1970s supercars. With its impressive speed capabilities and renowned performance, the P7 became the preferred choice for iconic vehicles like the Porsche 911 Carrera Turbo, Lamborghini Urraco, Countach, and De Tomaso Pantera.
The P7 earned Porsche's 'N' homologation and also became original equipment on select Ferrari models. Pirelli has reintroduced the P7 with modern enhancements while retaining its original tread pattern, ensuring exceptional performance for a range of classic vehicles.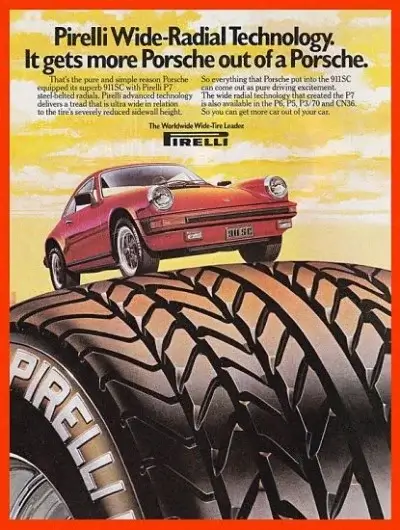 PIRELLI CINTURATO ™ P7 Porsche Advertisement
---
PIRELLI CINTURATO ™ P7: Design
---
The PIRELLI CINTURATO ™ P7 was first introduced to the world as the Pirelli Supersport, a tire that began its life experimenting in the World Rally Championship, fitted to the Lancia Stratos in 1974, with the car and tire combo obtaining 3 victories in the WRC 1974 Season, to be followed by many more over the years of the Stratos' time as a car used in the WRC. This tire brought many important innovations to racing tires, including the ultra-low profile of Serie 50 which was made possible due to advancements in the internal construction of the tire, this allowed for a lower profile while being able to be widened. The inclusion of a nylon zero-degree belt was also a defining feature of the tire. The innovation of the Pirelli low-profile tire led to even lower profiles being used in racing, and the development of the Serie 30 profile.
The PIRELLI CINTURATO ™ P7 was used on the Lamborghini Countach and Urraco, as well as the Porsche 911 Carrera Turbo, Porsche 930, and the De Tomaso Pantera.
---
PIRELLI CINTURATO ™ P7 Cars
---
| Tire Size | Relevant Cars |
| --- | --- |
| 205/50 VR 15 PIRELLI CINTURATO ™ P7 | Alpine Renault A310, Ford Capri, Sierra, Lamborghini Countach, Silhouette, Lancia Delta, Maserati Biturbo, Porsche 911, 911 SC, 930, Carrera |
| Tire Size | Relevant Cars |
| --- | --- |
| 225/50 VR 15 PIRELLI CINTURATO ™ P7 | De Tomaso Pantera, Lamborghini Countach, Lancia Stratos, Maserati Biturbo, Porsche 911, 911 SC, 930, Carrera, TVR 390SE, 400SE |
| Tire Size | Relevant Cars |
| --- | --- |
| 285/40 VR 15 PIRELLI CINTURATO ™ P7 | Alpine Renault A310, De Tomaso Pantera, Lamborghini Silhouette, Porsche 911, 911 SC, 912, 930 |
| Tire Size | Relevant Cars |
| --- | --- |
| 345/35 VR 15 PIRELLI CINTURATO ™ P7 | Lamborghini Countach, Lancia Stratos, De Tomaso Pantera |