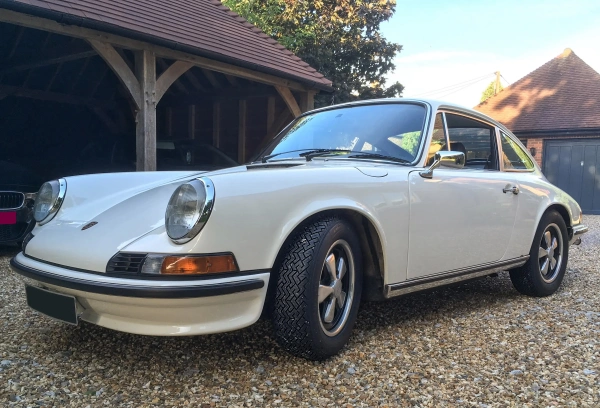 Porsche 911 on 185/70VR15 PIRELLI CINTURATO CN36 N Tires
---
PIRELLI CINTURATO ™ CN36 Tires
---
The PIRELLI CINTURATO ™ CN36, introduced in 1968, revolutionized the tire market with its low-profile design and 70% profile. It quickly gained popularity and became synonymous with iconic sports cars like the Porsche 911 and Fiat Dino, offering enhanced handling and performance. Today, reproduced versions of the CN36 are available, boasting Porsche's 'N' homologation, making them the ideal choice for high-powered classic sports cars.
---
The PIRELLI CINTURATO ™ CN36
---
The PIRELLI CINTURATO™ CN36, Pirelli's pioneering steel radial tire and one of their earliest low-profile tires showcased ground-breaking technology with its incorporation of a steel belt inside the tire carcass. After extensive research and development, Pirelli created a signature tread pattern that excels in absorbing obstacles while maintaining precision at high speeds. The tread pattern that is stated as being "soft at low speed and precise at high speed". Designed in alignment with the original suspension and dynamics of the era's vehicles, the CN36 offers optimal performance, reflecting meticulous consideration for the cars it was built to complement.
---
PIRELLI CINTURATO ™ CN36 for Classic Cars
---
Many of the CN36 tires are actually homologated by Porsche, this is shown with an 'N' as the title of this certification. This shows the high-quality standard of these tires as they are recognised as the best tire for a classic Porsche. The 215/60 VR15 PIRELLI CINTURATO CN36 N was the first ultra-low profile tire, and in 1973, the tire was fitted as the wider rear wheel to the RS and Carrera 911 Porsches, and was fitted onto a variety of Porsches through to the '80s, notably on the 911 SC models.
The 185/70 VR 13 PIRELLI CINTURATO CN36 is a highly sought-after low-profile tire, serving as a wider alternative to the 165 R13 full-profile tire commonly found on vehicles like the Opel Manta, Vauxhall Chevette, and Ford Cortina. The PIRELLI CINTURATO CN36 offers multiple advantages, including a V speed rating, period-specific carcass, and tread design, making it an ideal choice to enhance the performance and aesthetics of classic cars.
Similarly, the
185/70 VR 14 PIRELLI CINTURATO CN36
provides a low-profile alternative for vehicles originally equipped with 165 HR 14 tires, such as the
MGB
and various classic
Alfa Romeo
models like the Spider,
Giulia
, and
1750
. With its unique features and design, the CN36 further enhances the driving experience, complementing the overall appeal of these cherished classic cars.
---
PIRELLI CINTURATO ™ CN36 Cars
---
| Tire Size | Relevant Cars |
| --- | --- |
| 185/70VR15 PIRELLI CINTURATO ™ CN36 N | Austin Healey 100, 3000, MGC, Peugeot 604, Porsche 356, 911, 914, 924, 944, 911 SC, 912, Carrera, Triumph TR4, TR5, TR6, TVR Griffith, Volvo 164, P1800, Amazon |
| Tire Size | Relevant Cars |
| --- | --- |
| 185/70 VR 14 PIRELLI CINTURATO ™ CN36 | Alfa Romeo Sprint GT, 1300-1600 Junior Z, 2000, Giulia, 1750, Giulietta Spider, Giulia Spider, Spider 1600 Duetto, Spider 1750 Veloce, Spider S3-S4, Alfetta, Alfetta GTV, Audi 100, BMW 1800, 2000, 1600, Lancia Fulvia, Monte Carlo, MGB, 2200, Panther Lima, Porsche 924, Rover P6, Toyota Celica, Supra, Nissan 200SX |
| Tire Size | Relevant Cars |
| --- | --- |
| 215/60 VR15 PIRELLI CINTURATO ™ CN36 N | Porsche 911 (rear), 914 (rear), 944, 928, Carrera, Bitter SC, Nissan 300ZX |