Shop By
Shopping Options
Price

Free Shipping 2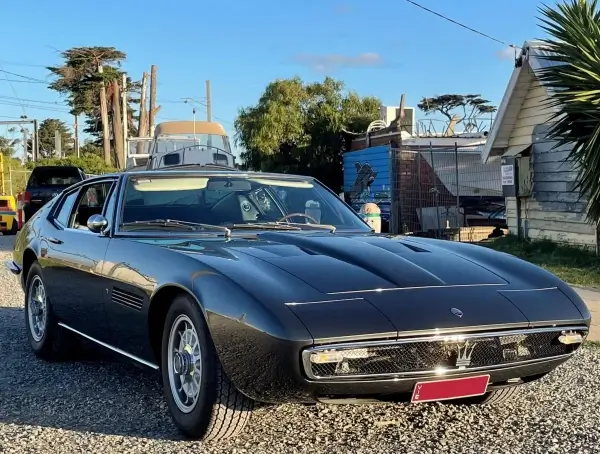 Maserati Ghibli on 215/70VR15 PIRELLI CINTURATO ™ CN12 Tires
---
PIRELLI CINTURATO ™ CN12 Tires
---
The introduction of the PIRELLI CINTURATO ™ CN12 in 1971 marked a significant advancement in super sports car technology. With outstanding grip and comfort, the CN12 became Pirelli's pioneering super low-profile tire, heralding the beginning of the supercar era.
Its expanded range found its place on renowned models like the Lamborghini Miura and Maserati Bora, while the large 255/60WR15 CN12 became a specialized choice for rear wheels on vehicles such as the Muira SV and Aston Martin V8 Vantage.
---
PIRELLI CINTURATO ™ CN12: Design
---
The 1970s witnessed a significant shift in the design of supercars, transitioning from the smooth and rounded aesthetic of the 1960s to the sharp and wedge-like appearance of iconic models like the Lamborghini Countach. To cater to these new car designs, tire technology evolved with lower profiles and wider tread profiles, giving rise to the PIRELLI CINTURATO ™ CN12. Originally developed as the CINTURATO ™ CN72 with 70% profiles, the CN12 offered exceptional grip, comfort, and safety at high speeds, making it an ideal choice for the era's supercars.
---
PIRELLI CINTURATO CN12 ™ Cars
---
The CN12 served as original equipment on notable vehicles such as the Aston Martin Vantage, Lamborghini Miura (rear), and post-1971 Jensen Interceptors. However, we highly recommend the CN12 for Jensen Interceptors due to its impressive W speed rating and the renowned quality associated with the Pirelli brand.
| Tire Size | Relevant Cars |
| --- | --- |
| 205/70 R 15 PIRELLI CINTURATO ™ CN12 | AC Cobra, Aston Martin DB4, DB5, DB6, BMW 503, Citroen SM, Ferrari 250, 250 GTO, 250 GT California Spider, 250 GT SWB, 250 GTE, 330 America, 250 GT Lusso, Iso Rivolta, Jaguar E-Type, XJS, XKE, Jensen Interceptor, Maserati Indy, Bora, Merak, Kayalami, Mercedes-Benz 300SL, Morgan Plus 8, Rover P5B, Facel Vega Facel II |
| Tire Size | Relevant Cars |
| --- | --- |
| 215/70VR15 PIRELLI CINTURATO ™ CN12 | AC Cobra, 428, Aston Martin DB6, Bristol 411, Blenheim, 412, Ferrari 365 GTB-4 Daytona, 365 California, 365 GT 2+2, 365 GT4 2+2, 365 BB, 400 GT, 400i, 400i GT, 330 GT, 330 GT 2+2, 365 GTC/4, Iso Grifo, Rivolta, Lele, Jaguar XJS, Jensen Interceptor, Lamborghini 350GT, 400GT, Espada, Islero, Miura, Jarama, Maserati 5000GT, Quattroporte, Mexico, Mistral, Ghibli, Indy, Bora, 4200, Sebring, Khamsin, Bizzarrini 5300 GT Strada, De Tomaso Longchamp, Lagonda Rapide |