Shop By
Shopping Options
Free Shipping 2
---
Jaguar XJ12 Wheels
---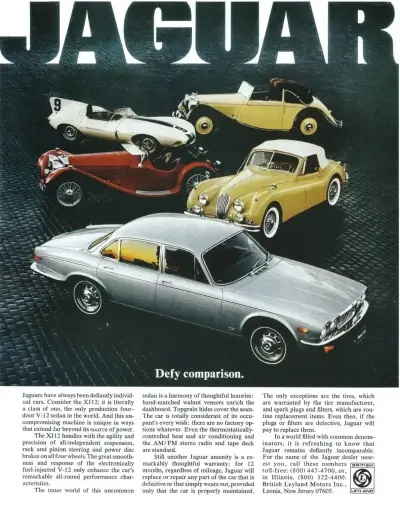 1978 Jaguar XJ12 Advert - Defy Comparison
---
Jaguar XJ12 Tires
---
The XJ12, XJ12L, and the coupe variant, the XJC12, were equipped with ER/70 VR 15 Dunlop SP Sport Aquajet tires.
Currently, we recommend two excellent tire options in this size: either the 205/70 WR 15 PIRELLI CINTURATO P5 or the 205/70 VR 15 Michelin XWX. Both these tires carry a W speed rating.
In 1979, Pirelli developed the P5 specifically for Jaguar models XJ6, XJ12, and XJS, following Jaguar's request.
In 1981/1982, when the XJ12 HE was introduced, the wheel size was increased by half an inch to 6.5". This model came fitted with 215/70R15 Tires. For this configuration, we suggest either the 215/70VR15 Michelin XWX or the 215/70 WR 15 PIRELLI CINTURATO P5.
For all the aforementioned tires, we recommend using the Michelin 15F innertube, except for the 215/70 WR 15 Michelin XWX, which would be better suited with a Michelin 15/17H innertube.
RW 4198 Jaguar XJ 12 Wheels

---