Shop By
Shopping Options
Free Shipping 2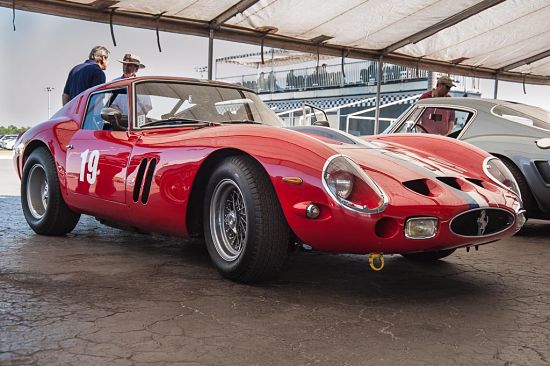 250 GTO Wheels
The Ferrari 250 GTO fitted lightweight, Aluminium Rimmed, Borrani wire wheels.
The front 250 GTO wheels were 6"X15" RW3711.
Ferrari fitted larger wheels and tires to the rear of the GTO; The series 1 GTO fitted 6.5"X15 RW3715.
The later 2nd series 250 GTO of 1964 Ferrari fitted wider 7.5"X15" RW3808 on the rear and put the series 1 RW3715 wheel on the front with the wider 6.5" rim.
Some of the earlier series 1 Ferrari 250GTO now often fit the later and wider 7.5" RW3808 Borrani.
The 250GTO had a 42mm hub. The spinners used were the 3 ear 42mm dished Ferrari Spinners.
Ferrari 250 GTO Tires
The Ferrari 250 GTO of 1962 to 1964 left Maranello fitted with Dunlop Racing tires.
The Dunlop Racing CR65 tires fitted could have been a mixture of 6.00L15 CR65, 6.50L15 CR65 and 7.00L15 CR65.
The Dunlop Racing tires fitted would be determined by the track, and race series entered.
The Dunlop Racing M section tires are not suited to a Ferrari 250 GTO, because as it runs wire wheels it need to fit inner tubes.
For many years Ferrari 250GTO cars used on the road would fit a mixture of Michelin XWX tires.
The 185VR15 Pirelli Cinturato CA67 is a genuine period tire that would have been a road tire option for the front of the 250 GTO.
The 205VR15 Pirelli Cinturato CN72 came out in 1964 and is perfect radial tire for the rear of the 250 GTO. It is a shame these 2 tires don't share the same tread pattern.
Pirelli have made a special tire, specifically for the Ferrari 250 GTO, with a period Pirelli racing tire tread pattern the Pirelli Stelvio.
The Ferrari 250 GTO needs to fit inner tubes in its Borrani wire wheels. Fronts; the Michelin 15F fits 185R15 and 205/70R15. The Michelin 15/17H13 is the ideal inner tube for 215/70R15 and 225/70VR15 tires on wire wheels.
RW 3711 Ferrari 250 GTO Wheels

---

RW 3715 Ferrari 250 GTO Wheels

---

RW 3808 Ferrari 250 GTO Wheels

---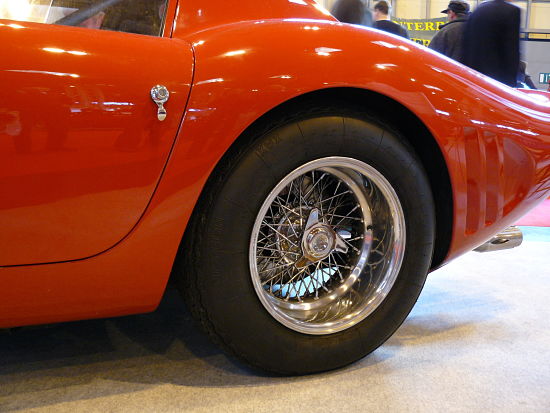 ---
Original tires for the Ferrari 250GTO
---
Q: What tires did the Ferrari 250 GTO fit originally?
A: All the 250GTO cars left the Ferrari fitted with Dunlop Racing Tires. For some time many of these cars have been used on the road fitted with the Michelin XWX tires. The good news is that Pirelli now make 6.00-15 (215/70VR15) and 7.00-15 (225/70VR15) Stelvio tires specially for the Ferrari 250 GTO
Q: Did the Ferrari 250 GTO originally fit RW3801 Borrani Wheels on the front?
A: No. All the Ferrari 250GTO cars originally fitted either 6" RW3711 or 6.5" RW3715 wheels on the front. However it is not unusual to find an RW 3801 wheel on the front of a GTO because they do fit and they are a more common wheel.