Michelin 15CB Offset Valve Inner Tube
Michelin 15CB Offset Valve Inner Tube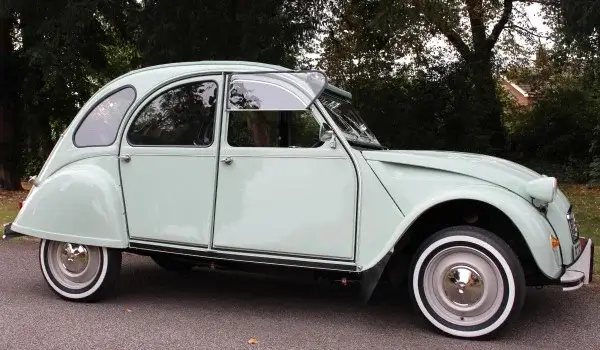 2CV with Michelin 15CB Innertubes
125 R 15 Innertube
When it comes to choosing a 125 R15 tyre there isn't really anything else you would consider instead of the 125 SR 15 Michelin X. When the tyre first came out they called it the 125 R 380 Michelin X; describing the 15" rim as 380mm. The 125 R 15 Michelin X is actually a tubeless tyre so in the most part does not need an innertube. However as a full profile tyre it can be fitted with an innertube if needed, for instance to repair a puncture or if fitted to a wheel that needed an innertube.
Citroen 2CV Innertubes
By far the most common use of a 125 R 15 tyre would be on the Citroen 2CV. Among the remarkable design features of the 2CV was the fact it was a very early car to have 125 R 15 Michelin X radial tyres fitted as standard equipment. Michelin inventing the radial tyre and owning Citroen Tyres at the time, they also took advantage of early tubeless tyre technology as well, so in the majority of circumstances inner tubes are unnecessary in a 125 R 15 tyre, however if you do need a tube we would strongly recommend the Michelin 15CB.
15 CB 13 Michelin Innertube
The small section Michelin 15CB innertube as well as fitting 125 R 15 2CV tyres, it can also fit 135R15 tyres as were fitted to the Citroen Ami 6 and Ami 8. Also many models of Renault; the Renault Dauphine, Renault Ondine, Renault 4 CV, Renault 8, Renault Floride and Renault Caravelle.
The Michelin 15 CB 13 can also be fitted to crossply tyre sizes between 400 - 15, 450 - 15, 4.80-15 and 500 - 15.
The number 13 within the innertubes description is telling us the innertube has a TR13 offset valve stem. If your wheel rim, for what ever reason has the wider TR15 valve hole in it we can supply TR15 valve collars.
More Information

| | |
| --- | --- |
| Make | Michelin |
| Valve exits wheel rim | Offset |
| PRODUCT TYPE | Single Tube |