Michelin ZX:
Classic Michelin ZX

---
Michelin ZX: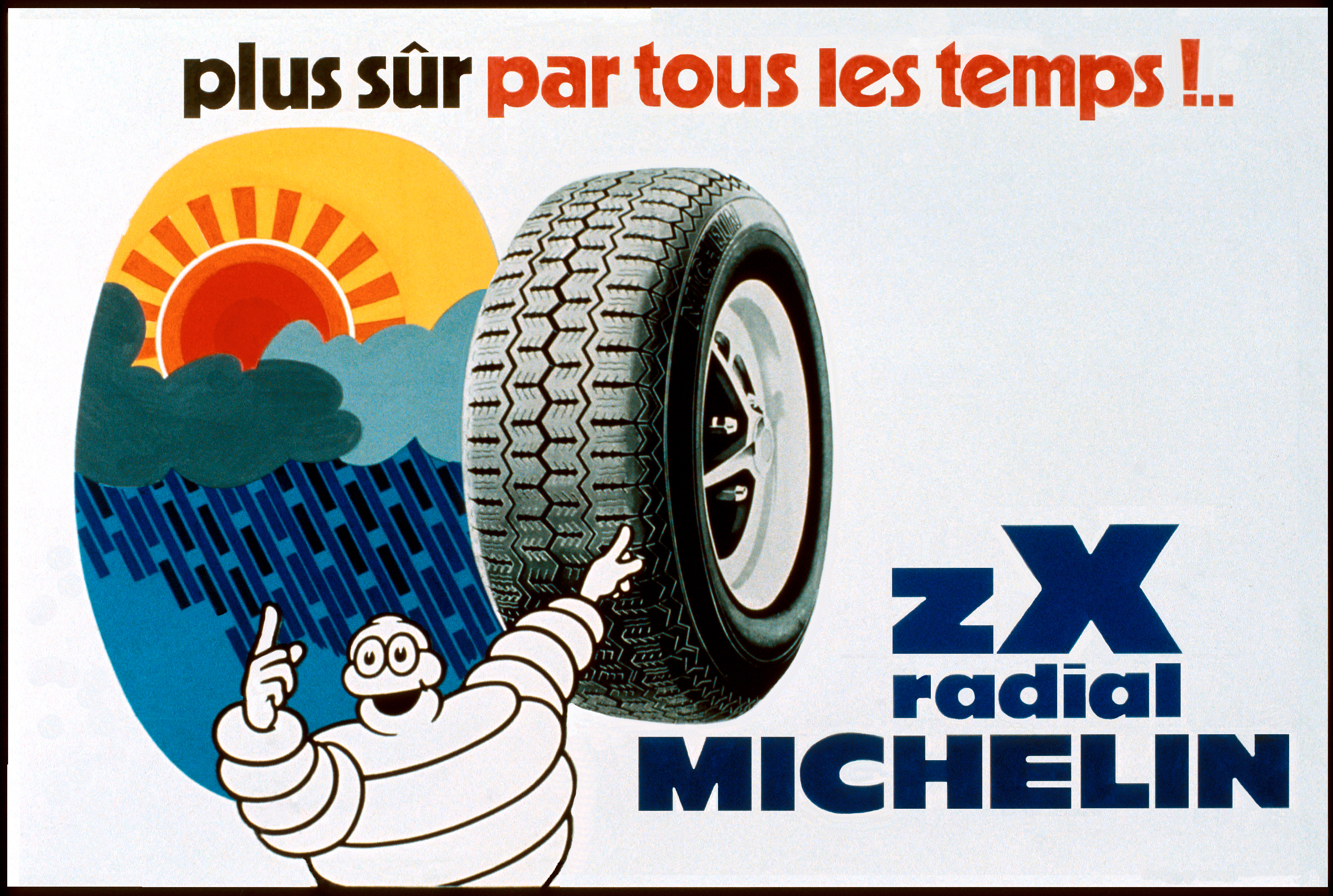 Michelin ZX: Design
In the Michelin ZX tire, the textile plies in the casing are laid radially, this means that the plies run archwise from bead to bead. This supple casing of the ZX keeps the tire cool and comfortable even when running up to 113 mph, as the SR speed rating dictates. To make the handling predictable the tread is braced with steel cord plies which also stop the ZX from squealing while cornering. The thin wiggly lines within the tread of the Michelin ZX are called sipes and work to help move water and improve grip in the wet.
Michelin ZX: Fitment
The Michelin 640SR13 ZX is a strange size for a radial tire as it has the size description of an earlier crossply tire, the closest radial size description of this tire is a 175R13, which is still an uncommon size description for a radial tire. This size tire will compliment a Mercedes 180, 190, and 220 from the 1950's and 1960's. These tires are also a brilliant radial alternative for cars like the Ford Zephyr and Zodiac.
The 135 R 15 Michelin ZX is a brilliant tire to fit to a Citroen Ami 6, Ami 8 and Mehari, a Renault Ondine, Renault Dauphine 4 CV, and Renault 10, Floride and Caravelle.
Michelin ZX: History
The Michelin ZX was an update to the design of the immensely successful Michelin X Radial Tire, featuring more sipes and an improvement to wet grip, greater economy of use with reductions in fuel consumption and tread life, and greater comfort with its more flexible aides thanks to its new plies.
Michelin were experiencing the wave of success following the Michelin X's influence in changing Europe to radial tires, and were slowly starting to creep into the United States with radial tire technology. Alongside this, many race cars were using Michelin X to great results, George Abecassis used Michelin X's in a 9 hour Goodwood race to great effect.
Following this, the ZX was born and Motorsport Magazine got the first taste of how brilliant these tires would be. Testing these tires at Brands Hatch in March 1968 on amazing cars such as a Triumph 1300, Vauxhall Victor 2000 and a Rover 2000TC for demonstration purposes, the demo proved it was a quieter, lighter, and more comfortable tire than it's predecessor.
The same year, the ZX was released to the public in the UK and in Italy with 8 sizes to start with, those were the 145-10, 155-12, 145-13, 155-13, 165-13, 145-14, and 155-14, all to fit the most popular vehicles in Britain from the last few years. Other sizes followed later that year to fit more vehicles that fit the SR speed rating, while the XAS that came out in 1965 would cover the higher speed rating.