5.50-18 PIRELLI STELLA BIANCA
The PIRELLI STELLA BIANCA 5.50-18 is a great value tyre considering its quality. These tyres are even better value when purchased as sets: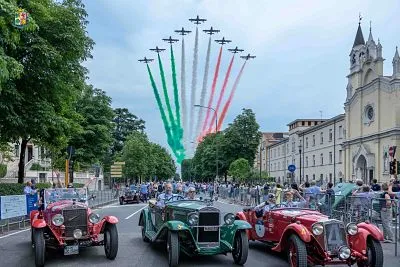 5.50-18 Tyres
In the 1930s many of the worlds best vintage sportscar manufacturers moved away from 19" wheels and tyres to fitting 5.50-18. Vintage cars like 6C Alfa Romeo, Type 57 Bugatti and 3½ and 4¼ Litre Derby Bentley. Today we would suggest that the best handling tyre for these historic cars would be the 5.50-18 Pirelli Stella Bianca. The structure of these fantastic tyres is ideally suited to the chassis set of these cars and will offer fabulous directional stability considering these are still cross ply tyres, with plenty of grip and progressive handling.
5.50-18 Inner Tubes
Tyres such as this 5.50-18 Stella Bianca from the 1930s do need fitting with an inner tube. We would suggest that the Michelin 17/18 H RET inner tube is reinforced and will suit these tyres perfectly. .
The Overall Diameter of the 5.50-18 Pirelli Stella Bianca is 762 mm and the width is 160 mm. For more information on the 5.50-18 Pirelli Stella Bianca please see below or email us at [email protected] or call: +44 (0) 1302 711 123.
Back to the search for 550 - 18
More Information

| | |
| --- | --- |
| Make | Pirelli |
| TYPE | Crossply |
| ACTUAL WIDTH | 160 mm |
| OVERALL DIAMETER INFLATED | 762 mm |
| RIM DIAMETER | 18" / 457 mm |
| LOAD INDEX | 78 = 425 kgs |
| SPEED RATING | V (149 MPH) |
| RECOMMENDED TUBES | 17/18 H 13 RET Michelin |
| TUBE OR TUBELESS | TL (Tubeless) |
| RECOMMENDED RIM WIDTH | 3.00" - 4.50" |
| Whitewall Width | N/A |
| ALTERNATIVE SIZE DESCRIPTION | 550/100-18 , 550/100 -18 , 550/100 - 18 , 550 100 - 18 , 550-18 , 550 -18 , 550 - 18 , 550/100X18 , 550/100 X18 , 550/100 X 18 , 550 100 X 18 , 550X18 , 550 X18 , 550 X 18 , 550/100 18 , 550/100 18 , 550/100 18 , 550 100 18 , 550 18 , 550 18 , 550 18 , 550/100*18 , 550/100 *18 , 550/100 * 18 , 550 100 * 18 , 550*18 , 550 *18 , 550 * 18 |
| PRODUCT TYPE | Single Tyre |