Austin Healey Sprite Wheels
Shop By
Shopping Options
Free Shipping 2
---
Austin Healey Sprite Wheels
---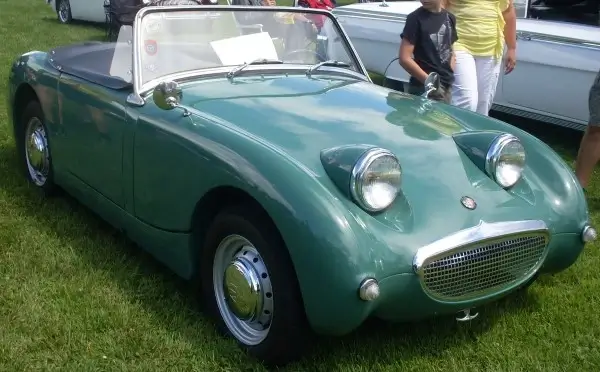 1960 Austin Healey Frogeye Sprite Green
---
Austin Healey 'Frogeye' Sprite Tyres
---
Austin Healey Sprite MKII Poster
---
Austin Healey Sprite Tyres
---
The Austin Healey Sprite MKII, MKIII, and MKIV also used 5.20X13 crossply tyres, but there is not a good quality crossply tire sized for a Sprite. a 145R13 PIRELLI CINTURATO CA67 radial tyre is best suited for it today. For wider tyres, the Pirelli 175/70VR13 CN36 is the top-performing option, while others in this size may negatively affect the steering.
According to period tyre pressure guides, it is suggested to maintain 25 PSI front and rear tyre pressure for the Frogeye/Bugeye Sprite.
When using wire wheels, innertubes are necessary for the proper and safe functioning of the wheels. The Michelin 13CG innertube is suitable for 145R13 tyres, while the Michelin 13E innertube is best for 175/70 VR 13 tyres.
For the Austin Healey Sprite (MKII onwards), the recommended tyre pressure is 24psi in the front and 26psi in the rear.
It is not recommended to use the 520X13 crossply tyre for the Frog Eye Sprite or the Spridget, they are not suited to modern roads. Instead, installing a 145R13 radial tyre is suggested.
RW 3895 Austin Healey Sprite Wheels

---

RW 4009 Austin Healey Sprite Wheels

---