Austin Healey Sprite Wheels
Shop By
Shopping Options
Free Shipping 2
---
Austin Healey Sprite Wheels
---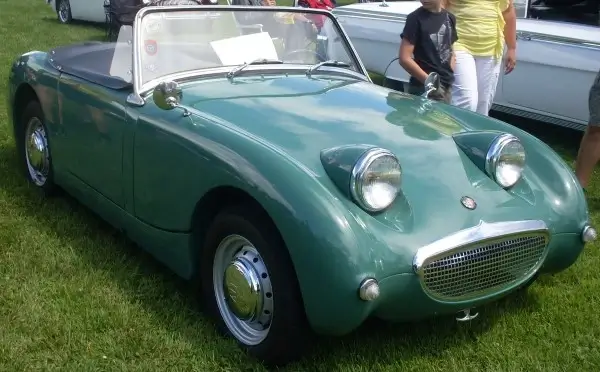 1960 Austin Healey Frogeye Sprite Green
---
Austin Healey 'Frogeye' Sprite Tyres
---
The Austin Healey Sprite MK1 was affectionately known as the 'Frogeye Sprite' or 'Bugeye Sprite'. 5.20x13 crossply tyres were originally installed.
The classic radial tyre 145HR13 PIRELLI CINTURATO ™ CA67 is presently the ideal tyre for a Frogeye Sprite.
Many of these small Bugeye cars have been fitted with bigger wheels, in which case the 175/70 VR 13 PIRELLI CINTURATO CN36 is the best option, outperforming any modern tyre.
Austin Healey Sprite MKII Poster
---
Austin Healey Sprite Tyres
---
The Austin Healey Sprite MK2, MK3, and MK4 were also equipped with 5.20X13 crossply tyres, today a 145R13 PIRELLI CINTURATO TM CA67 tyre would be ideal.
If wider tyres are used, Pirelli's 175/70VR13 CN36 will outperform any other bigger tyre, other tyres in this size will have a greater adverse effect on the steering.
Period tyre pressure guides suggest 25 PSI front and rear for the Frogeye/Bugeye Sprite.
Wire wheels require the fitment of innertubes in order for the wheels to function properly and safely. The Michelin 13CG innertube is the most appropriate for 145R13 tyres, whereas a Michelin 13E innertube would be best suited to 175/70 VR 13 tyres.
Tyre pressures for an Austin Healey Sprite (MKII onwards) is 24psi in the front and 26psi in the rear.
Today there is not a 520X13 crossply tyre that we would recommend for the Frog Eye Sprite or the Spridget; for most people, a radial tyre is more suited to our modern roads. As a result, we propose installing a 145R13 radial tyre.
RW 3895 Austin Healey Sprite Wheels

---

RW 4009 Austin Healey Sprite Wheels

---