Austin Healey 3000 Wheels
Shop By
Shopping Options
Free Shipping 2
---
Austin Healey 3000 Wheels
---
---
Austin Healey 3000 Tires
---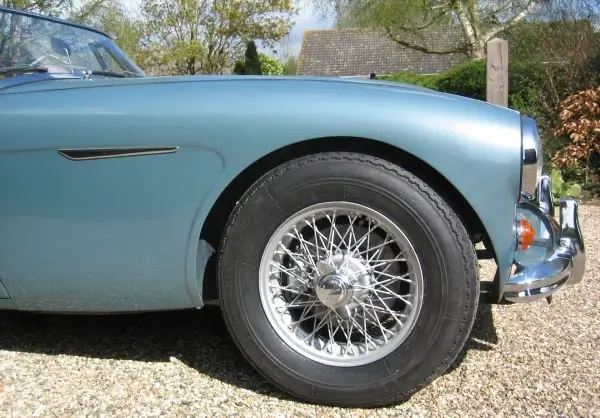 Austin Healey 3000 on 180 HR 15 Michelin XAS Tires
The original tire for the Austin Healey 3000 was a 5.90H15 Dunlop RS5, which is no longer manufactured. We propose fitting the 590 H 15 Avon Turbospeed for a good Crossply fitting.
The best handling tires for an Austin Healey road car are the 180 HR 15 Michelin XAS. It is the perfect height for the 3000 and handles beautifully.
The standard radial equivalent for 590-15 is 165R15 Tires. Though a 165R15 tire is somewhat smaller in diameter.
If it is 165R15 you want the 165-15 Michelin XAS or 165HR15 PIRELLI CINTURATO ™ CA67 as the best tire in this size.
The 180 HR 15 Michelin XAS tires provide the Austin Healey with greater ground clearance, superior gearing, and excellent handling. It is the ideal tire for an Austin Healey 3000.
Low-profile alternatives for an Austin Healey 3000 include 185/70VR15 PIRELLI CINTURATO CN36 N and 185/70R15 Avon CR6ZZ (The CR6ZZ is optimised for track use).
Though 185/70R15 tyres are what people use for track use it is not such an ideal road tyre as it lowers the car and gearing while at the same time making the steering slower and heavier.
---
Austin Healey 3000 Innertubes and Tire Pressure
---
All wire wheels should be fitted with innertubes. The Michelin 15E is our recommendation for the best Austin Healey 3000 innertube when fitted with 590-15, 165R15, 180R15, or 185/70R15 tires.
When installed with 180 HR 15 Michelin XAS, the Austin Healey 3000 tire pressure suggestion is 26psi front and 29psi rear.
RW 3554 Austin Healey 3000 Wheels

---

RW 3973 Austin Healey 3000 Wheels

---

RW 3973/1 Austin Healey 3000 Wheels

---

RW 3973/2 Austin Healey 3000 Wheels

---