Shop By
Shopping Options
Price

Free Shipping 2
---
Austin Healey 100 Wheels
---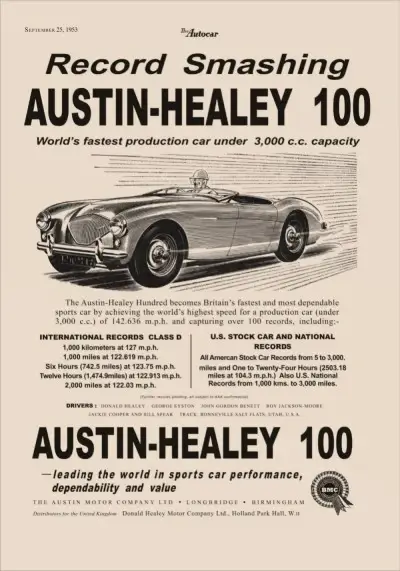 Austin Healey 100 Period Poster
---
Austin Healey 100 Tyres
---
Both models of Austin Healey 100 originally fitted 5.90x15 crossply tyres. If you desire a crossply tyre then we suggest the 590 H 15 Avon Turbospeed.
The standard radial equivalent size is 165R15. The ideal 165-15 tyre for Sprite 100 models is the 165HR15 PIRELLI CINTURATO ™ CA67.
The fitment of a wheel with a diameter 4.5" or wider allows for the very best Austin Healey 100 tyre to be fitted; the 180 HR 15 Michelin XAS.
The 180 HR 15 Michelin XAS is ideal because it is taller than the 165-15, allowing for better gearing and more ground clearance. It also fills the wheel arches snugly where other tyres do not.
Please be aware that as the Austin Healey 100 is partially hand crafted, and many are modified, some cars have wheel arches that would rub against a 180 - 15 tyre, causing friction and damage to the wheel arches and tyres. In these cases the 165HR15 PIRELLI CINTURATO ™ CA67 is the best option.
The correct innertube for the tyres mentioned above is the Michelin 15E innertube.
RW 3034 Austin Healey 100 Wheels

---

RW 3839 Austin Healey 100 Wheels

---

RW 3839 Austin Healey 100 Wheels

---