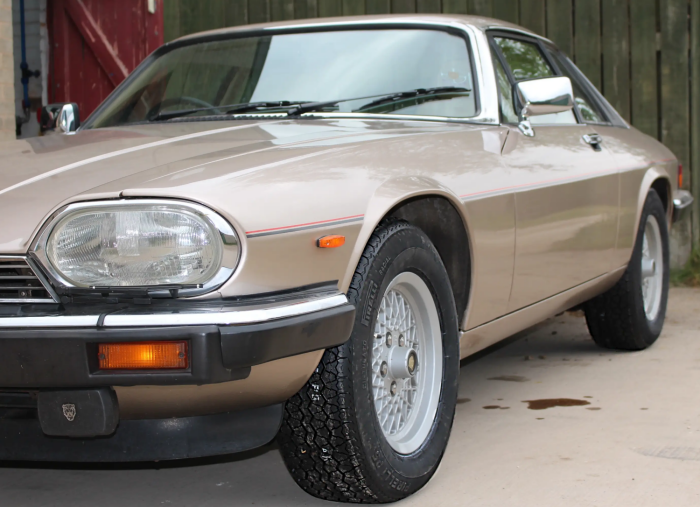 Jaguar XJS on PIRELLI CINTURATO ™ P5 Tires
---
PIRELLI CINTURATO ™ P5 Tires
---
The CINTURATO ™ P5, developed in response to Jaguar's request in 1977, is a tire designed to provide exceptional performance, comfort, and a quiet ride specifically for luxury cars. With official homologation for various Jaguar models, including the XJ6, XJ12, XJS, and XJ40, the P5 continues to be the preferred tire for classic Jaguar and Daimler vehicles, offering unmatched quality and performance.
PIRELLI CINTURATO ™ P5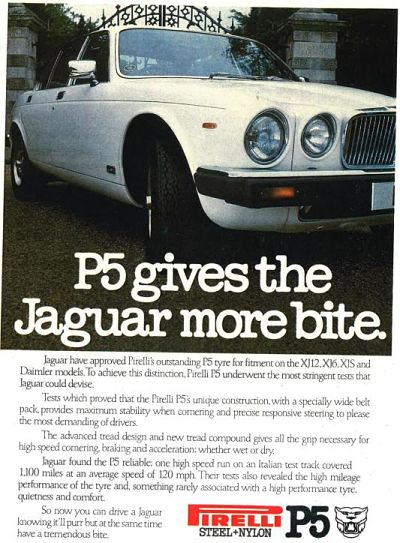 ---
PIRELLI CINTURATO ™ P5: Design
---
In 1977 Jaguar and Pirelli collaborated to make a tire that perfectly complemented Jaguar's Sedans. The result of the collaboration was a tire that fit the specifications of Jaguar cars perfectly. The P5 offers peak performance for your classic Jaguar, with luxurious comfort, amazing grip in all conditions, and an extremely quiet ride, as well as a W speed rating just to round off the incredible features that this car gives to a Jaguar. The PIRELLI CINTURATO ™ P5 was officially homologated in the sizes 205/70 WR 15 on the Jaguar Models XJ6, XJ12, and XJS, later accompanied by the homologation of the 225/65 R15 for the XJ40.
---
PIRELLI CINTURATO ™ P5 Cars
---
| Tire Size | Relevant Cars |
| --- | --- |
| 205/70 WR 15 PIRELLI CINTURATO ™ P5 | AC Cobra, Aston Martin DB4, DB5, DB6, BMW 503, Chrysler Dodge Challenger, Citroen SM, Daimler Sovereign, De Tomaso Mangusta, Vanden Plas, Double-Six, XJ, XJ40, DS420 Limousine, Facel Vega Facel II, Ferrari 250, Ferrari 250 GTO, Ferrari 250 GT, California Spider, 250 GT SWB, 250 GTE, 250 GT Cabriolet, 330 America, 250 GT Lusso, Ford Mustang, Iso Rivolta, Jaguar E-Type, MKX, 420G, XJS, XJ6, XJ12, XKE, Jensen 541R, 541S, C-V8, Interceptor, Maserati Indy, Bora, Merak, Kayalami, Mercedes-Benz 300SL, Morgan Plus 8, Panther J72, Rover P5B, Volvo 260 |
| Tire Size | Relevant Cars |
| --- | --- |
| 215/70 WR 15 PIRELLI CINTURATO ™ P5 | AC Cobra, 428, Aston Martin DB6, Bizzarrini 5300 GT Strada, Bristol 411, Blenheim, Chrysler Dodge Charger, Daimler Double-Six, Sovereign, Vanden Plas, XJ, XJ40, De Tomaso Longchamp, Pantera, Ferrari 275 GTB, 330 GT, 330 GT 2+2, 365 BB, 365 California, 365 GT 2+2, 365 GT4 2+2, 365 GTC/4, 400 GT, 400i, 400i GT, 512BB, Daytona, 365 GTB-4 Daytona, Ford GT40, Mustang, Iso Grifo, Rivolta, Lele, Jaguar XJS, XJ6, XJ12, Jensen Interceptor, Lagonda Rapide, Lamborghini 350GT, 400GT, Espada, Islero, Miura, Maserati 4200, Bora, Ghibli, Indy, Khamsin, Mexico, Mistral, Quattroporte, 5000GT, Merak, Sebring |
| Tire Size | Relevant Cars |
| --- | --- |
| 225/65 WR 15 PIRELLI CINTURATO ™ P5 | Bitter SC, Daimler Sovereign, XJ, XJ40, Ford GT40, Jaguar XJS, XJ40, XJ6, XJ12, De Tomaso Mangusta |