Shop By
Shopping Options
Price

Free Shipping 2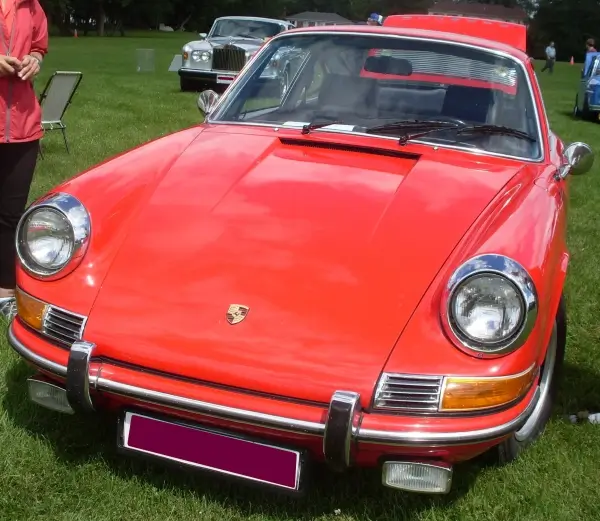 1970 Porsche 911 Classic
---
Porsche 911 Wheels
---
Borrani can make a set of RW 4268 Borrani Wheel 6.0"x15" that can be directly fitted to a Porsche 911T.
Borrani can also make the RW 4186 Borrani Wheels 6.0"x15" for use on the 1967-1973 Porsche 911T, however you would also need a transform kit to fit these wheels.
These wheels can only fit the 185/70R15 tires listed below.
---
Porsche 911 Tires
---
The Porsche 911 models from 1965 were recommended to use the 165 VR 15 PIRELLI CINTURATO CN36 N, while pre-1968 models used 165HR15 PIRELLI CINTURATO ™ CA67. Another great option for these models is the 165-15 Michelin XAS.

1976 Porsche 911 2.7l

From 1968 to 1973, Porsche fitted 185/70R15 tires on the front and rear, and we recommend using the 185/70VR15 PIRELLI CINTURATO CN36 N or the 185/70 VR 15 Michelin XWX for these models.
From 1973 and throughout the '70s, various Porsche 911 models started to fit 215/60 VR15 PIRELLI CINTURATO CN36 N on the rear.
From 1986, the later 911 SC cars moved on to a 195/65R15 on the front, which is not suited to pre-SC Porsche 911s.
A 185R14 tire with 14" wheels is recommended for road models like the 911T and 911L that want a more comfortable ride on the road. We recommend the 185 HR 14 Michelin MXV-P for this setup.
The earlier Porsche 930 3.0 Carrera & 930 3.0 Turbo models fitted 225/50 VR 15 PIRELLI CINTURATO P7 and 205/50 VR 15 PIRELLI CINTURATO P7. Some 911's had 11" wide wheels and fitted 285/40 VR 15 PIRELLI CINTURATO P7 on the rear.

Porsche 911 Carrera on 16-inch Wheels

For those who prefer wider rear tires, the recommended fit is 225/50ZR15 Pirelli P7 Front & 285/40 VR 15 PIRELLI CINTURATO P7 on the rear.
From 1985, Porsche offered a 16" wheel option, and Michelin currently makes 205/55 ZR 16 Michelin SX MXX3 and 245/45 R 16 Michelin SX MXX3. Pirelli also offers 205/55YR16 PIRELLI CINTURATO P7, 225/50 YR 16 PIRELLI CINTURATO P7 & 245/45 VR 16 PIRELLI CINTURATO P7 which are an excellent choice.
Porsche themselves have requested the Pirelli Collezione CINTURATO ™ CN36 & P7, and these tires have the Porsche 'N' homologation as the recommended and preferred tire for the 911.
For tarmac rallying, sprinting, or hill climbing with 15" wheels on a 911, the Michelin TB15 range will have the ideal tire for you.
---
Porsche 911 Innertubes
---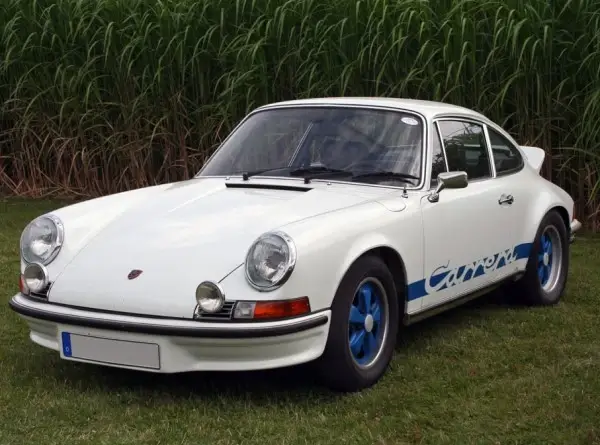 Porsche 911 Carrera RS 2.7
For early 911 cars that came with tube-type wheels and tires, innertubes should be fitted with the original wheels. The Michelin 15E innertube is recommended for both 165VR15 and 185/70VR15 VR15 tires. However, it should not be fitted in a 195/65R15 tire or in any tire lower than 70% profile.
The first Porsche 911 Carrera models fitted with super low profile radial tires (215/60VR15 CN36) came with innertubes, but it is not recommended. Porsche quickly moved to tubeless wheels with a safety hump and fitting tubeless tires, and tire manufacturers also stopped making tube-type 60-profile tires. 60% and 65% profile tires need to be fitted to tubeless wheels and run without innertubes.
RW 4186 Porsche 911

---

RW 4268 Porsche 911

---